There are many fitness training programs, and some sports are loved by most people. Running is a familiar sport with low threshold, which can be run by men, women, young and old. So, if you keep running every day, can you lose weight? Running is a kind of fitness. If you want to lose weight through running, what do you need to keep in mind?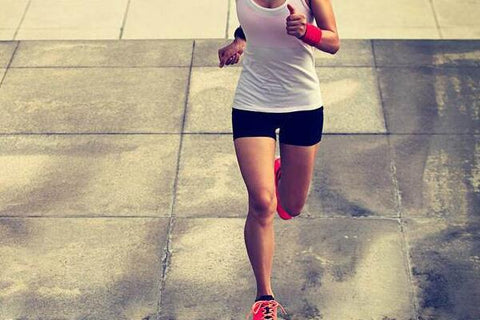 1. Running speed
Running can be divided into fast running and jogging. Fast running belongs to anaerobic exercise, which cannot be sustained. It is easy to be exhausted and has small thick legs. This is not your original intention of running.
Jogging belongs to sustainable training, which can achieve the effect of slimming legs. Therefore, when running, you can control your speed to 6-9km / h.
If your weight base is too large, it is difficult to stick to it. It is suggested that you can jog and walk fast. After sticking to it for a period of time, your cardiopulmonary function will be strengthened and your exercise ability will be improved. At this time, try jogging training, and you will find that your endurance will be improved.
2. Running duration
Jogging for an hour can consume 500 calories, while the calorie of a kilogram of fat is 3900 calories. If you want to lose 1 kilogram of fat, you need to run for nearly 8 hours. If you want to lose 5 kilograms of fat, you need to run for about 40 hours.
If you run for 1 hour every day, you need to persist for about 40 days to lose 5 kilograms of fat. Therefore, running to lose weight is a thing that requires persistence to be effective.
3. Stretch training
After running, muscle congestion will occur. Many people mistakenly think it is muscle legs. In fact, after running, fully stretch and relax the leg muscles, so that the legs will become more slender and beautiful, and the problem of muscle soreness after running will also be reduced.
Therefore, don't sit immediately after running. Be sure to stretch your leg muscles, which can also improve the flexibility and softness of your legs.
4. Diet management
When running, if you can combine diet management, the weight loss effect will also double. If you eat too much and don't manage your diet well, the extra calories you consume every day may be higher than the calories you consume when running. For example, a portion of French fries has 320 calories, a glass of coke has 180 calories, and a fried chicken hamburger has more than 400 calories.
Only by managing your diet well, avoiding all kinds of high calorie and over processed foods, and eating more low calorie and natural foods, can you control calorie intake and improve weight loss efficiency.