Pull up is the most common way of fitness in our daily life. The hanging exercise, which mainly relies on our own strength to overcome self weight and work upward, is a very good self weight training. What are the benefits of pulling up?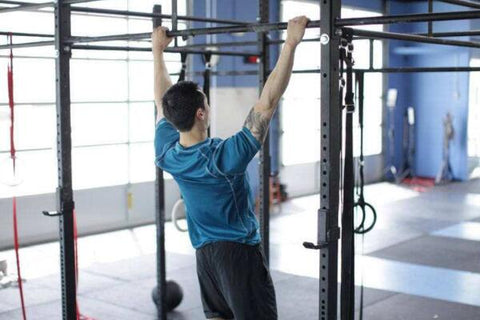 1. Exercise more muscle groups
Often using the pull-up exercise method can practice the back muscles, shoulder muscles, chest muscles and upper arm muscles of the human body, which is also very helpful to the strength of the arm. Practicing pull-up can exercise the coordination of the body well. It requires the coordinated force of the body and the coordinated force of the core, upper arm, chest, back, rotator cuff muscles and other muscle groups. It is required that your body become an anti bow shape, keep your chest straight and back closed, so that your body has a certain angle, rather than straight up and down, and then bend your arms and pull up until your chin exceeds the horizontal bar.
2. Exercise cardiopulmonary function
When you do more pull ups, you need to work with rhythmic inhalation and exhalation, so that the body's cardiopulmonary function can be exercised. Some people think that the strength of their arms is too small to go up. In fact, the greatest strength comes from your chest, so you should be good at using the strength of your chest, not just rely on your arms to pull. With the strength of your chest and back, the burden on your hands will be light, and vice versa.
3. Lose weight
For people who are overweight, they can also lose weight through pull-up exercise. Pull-up exercise can double the strength of the upper limbs and shoulder straps of the human body, consume calories and burn fat. However, for this way of weight loss, it is also necessary to control weight in time and follow up the implementation of the weight loss plan.
4. Contribute to spinal health
Pull up has an important impact on the health of the human spine. Regular contact with pull up can not only correct the position of the spine, but also change the poor posture of mild scoliosis, hunchback, chest and so on. For mild lumbar disc herniation, shoulder and neck pain has a significant therapeutic effect.
5. Conducive to height
For underage children, bones are still developing. When practicing pull-up, due to the tension in the process of fighting against their own gravity, it can promote the slow growth of bones and have a certain help and effect on height growth.
6. Practice inverted triangle shape
The pull-up requires holding the horizontal bar with a certain width of both hands to maintain the vertical stability of the muscle trunk. This can exercise the shoulders, increase the width of the shoulders, enhance the strength of the arms, and practice the core strength. The lumbar and abdominal muscles are obvious.