In this society where sports are advocated by the whole people, if you don't adhere to sports, you will only make your body gradually get fat, make your physical fitness gradually decline, and the whole person looks depressed.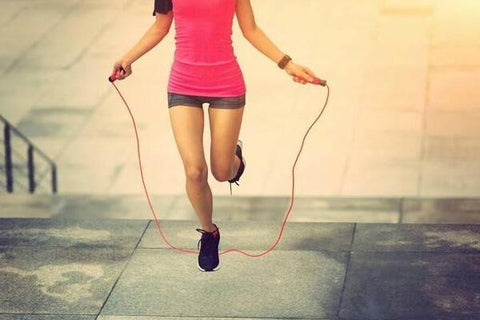 1、 Help lose weight and shape
When we jump rope, in fact, in the process of constantly waving the rope, we can do a good job of whole-body movement, and speed up the frequency of jumping rope, which can make the body burn fat and sweat quickly. According to research, jumping rope at a medium speed for 30 minutes can consume 330 calories, which is beyond the reach of most sports, such as running, under the same time conditions.
More importantly, skipping rope can help the body shape well. Whether men, women, young or old, skipping rope often has a particularly strong exercise effect on the slow muscle fibers in the muscles. The figure obtained by skipping rope will appear tighter and clearer, which can make the body more symmetrical. After losing weight, the body proportion also tends to develop on the positive side, so skipping rope has also become the first choice of many people who lose weight.
2、 Pleasant mood
Research has found that getting up early every day and persisting in skipping rope for a period of time can help us relax our pressure and adjust our mood. Modern people are under great pressure in life and work. If we can't release these emotions well, it will seriously interfere with our daily life, make us sulky, and then there will be many physical problems.
But if we get up early every day and take a little time to jump rope, it will help us reasonably release these negative emotions, make our emotions become high, and our work efficiency will also become higher.
3、 Improve the metabolism of the body
Don't underestimate the fact that you get up early and jump rope for half an hour every day. After holding on for a period of time, you will find that the metabolism of your body is enhanced, and the cardiopulmonary function is also improved. You can prevent some heart and brain diseases and make your body look younger. And often skipping rope, the whole person's temperament will gradually improve and become confident and generous.